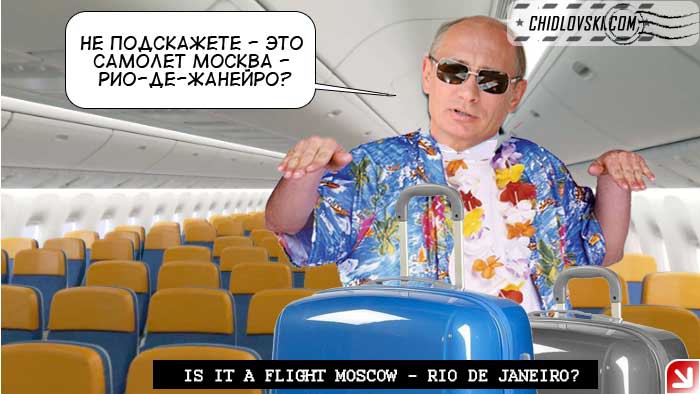 How did "Daily Mail" know the day before the awaited announcement on Sunday that "Russia to be booted out of the Olympics by the International Olympic Committee"?
Perhaps, it is a highly anticipated verdict…
My favorite part is about team Russia being out but "that would mean Vladimir Putin, as head of state, could attend."
Imagine empty plane from Moscow to Rio…
Good luck to all who about to start competing in Rio.
All these recent anti-doping scandals and media trips into the dark corners of sports  can be a distraction from the essential part of any sport – training and competition.   Watching how athletes are getting ready to the main meets of the sports lives, I do this excursions to my past – remembering my teachers, teammates and the legends of the sports we always learned and got inspiration from.
Here is the exercise widely popularized by Vasily Alexeev in the 1970s.
Alexeev was a super talent, highly successful super heavyweight  and a peculiar personality.
He trained alone.
Very few were allowed to attend his training sessions. Stories were told about special lifts and equipment that Alexeev invented to improve his results. Sometimes we were able to get a glimpse of these lifts.
Some were rather doubtful in terms of their usefulness. I always thought that photos of Vasily Alexeev doing cleans in the Don river were more of a publicity stint than actual lifts to be used in training.
Some were really helpful. We really loved this back bends shown in the attached video.
I always listed it in my training diaries as "Alexeev's bends over the vaulting horse".
Imagine how disappointed I was to find out much later that it was called hyperextensions and invented before Alexeev was born.
I am not sure if he really developed it from scratch or borrowed the concept from some magazine or something he saw during his lifting career in the gyms abroad.
Regardless of the name of the inventor, I found it useful and learned it from Vasily Alexeev.
Just some memories and happy lifting in Rio!

Thinking out loud…
Mikhail Gorbachev wrote an open letter to Thomas Bach and the International Olympic Committee on behalf of Russia.
Mikhail Gorbachev is the Nobel Prize Laureate. He was the first and the last President of the Soviet Union.He was the mastermind of the downfall of communism in Russia, destroying the Iron Curtain  and bringing democracy to Russia.  By many accounts, people's opinions in Russia on him are split. Some can't forgive him for destroying the great empire. Some praise him for the changes he brought to Russia.
I happen to consider Gorbachev to be a great person who had one of the most profound influence on me, on my life philosophy and on my stand points. Needless to say, that during perestroyka and glasnost era of Gorbachev, there were great changes made in Russia and sports wasn't the area of big concern and focus of Gorbachev.
There were bigger issues to resolve than taking care of the sports. In fact, sports was a victim of transition from Soviet economy to capitalism. The only ones who earned were Russian super stars who were able to free from the state control and sign lucrative contracts with professional sport clubs abroad. The NHL hockey stars from Russia are the first example that comes in mind. The investment to sports fell down enormously.  The whole infrastructure of sports, youth sport, sports arenas and training facilities were neglected and were let to flow down.
Perhaps, it was the time when the whole issue if doping and using banned substances were let go and in many ways went out of control. The philosophy of whole world of sports was to fight drugs and PEDs. It was a money and time consuming process to commit sports to go into a drug free direction. Russia couldn't really afford to follow this path in the time of survival in the country.
The athletes used old trends and views on sports that used to bring huge success for Soviets at the Olympics in the past decades. With times changing, the old trends needed to be upgraded and even changed drastically. In many cases, those became rudimentary and outlawed by sports  authorities. The results are obvious. It was let to the recent scandals and even to the unthinkable steps that might ban Russia from going to the Olympics.
I really want the open letter by Gorbachev to be read and heard.
To be heard by both the IOC and the Russian sports authorities.
It's too much to ban all from Russia to participate from the Olympics. Olympic movement shouldn't be about about punishing everybody regardless of their guilt. It should be progressive and growing…
And it's too much to involve FSB like services in secret cheating activities with testing samples in the late night hours. It's comical and crazy at the same time! Serious changes should be made in and for sports – not just these quick fixes and booze parties in the Russian Houses in the Olympic village.
Just some thoughts here.
Long live Olympics!
With all this anti-doping scandal and uncertainty of Russia going to Rio-2016, I feel bad for the athletes that still have to train and get themselves ready for the main competition in their lives.
Regardless to whether they agree to allow Team Russia to compete or not.
The footage attached shows Vasily Alexeev training for the competitions in the 1970s.
By the way, there is a lot of funny caricatures around the latest pre-Olympics events.
Some make fun of Vasily Alexeev. I would think suggest to twice before going into this. It actually gives  a wrong idea to people that are not familiar with the history of sports. Obviously, Olympic weightlifting is one of the usual suspects for WADA and Alexeev was a colorful legend of Soviet sports back then. Still, Alexeev had never been banned or caught using forbidden substances.
Knowing his character, I would never made fun of his appearance or done any false accusations about him.
It would have been a dangerous and risky exercise back when he was alive.
Please be fair. Respect the memories of the champions that are no longer with us. If you want to learn more about the history of Olympic weightlifting, please feel free to visit the Lift Up.