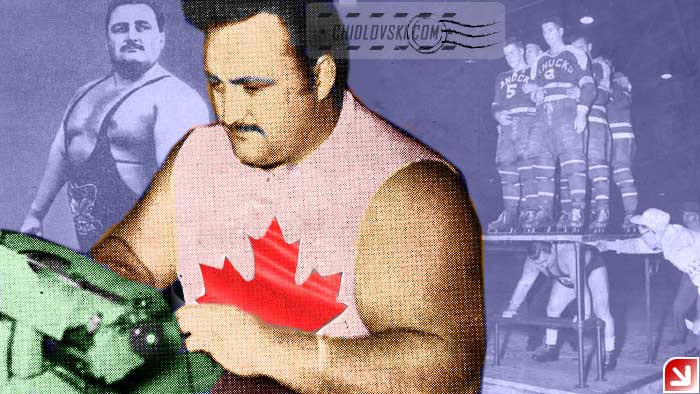 As a sports historian, I have a special passion for two sports – Olympic weightlifting and hockey.
In this regard, the collage cover for this article covers it all, Doug Hepburn is my type of legend.
Inducted into Canadian Olympic Hall of Fame, Hepburn (1926-2000) was the strength king of the world in the early 1950s.  He won weightlifting gold medals at the 1953 IWF World Championships and the 1954 British Empire Games in the heavyweight class. He was also the first man to raw bench press 400, 450, and 500 pounds.
He had shown many feats of strength including lifting up the whole line of hockey players. Who else would you expect to lift from a British Columbia, Canada native but the Vancouver Canucks hockey team!
After retirement from weightlifting, he pursued a  literary career and wrote essays and poems. Of course, there were no PCs, internet or social networks at the time, otherwise I won't be surprised if Hepburn had a significant contribution in online social networks and publication.
With all these said, Hepburn's middle name was Ivan.
No doubts, Douglas Ivan Hepburn is my type of weightlifting legends!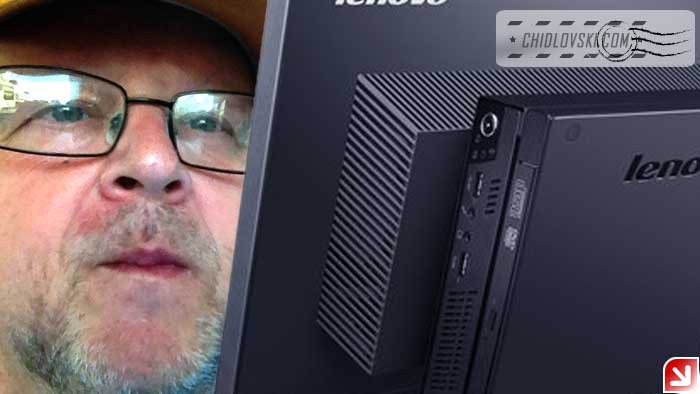 Working Sunday on the launch of the new system.
It's been a brutal schedule for me in the last week – working late hours and on the weekends.
Totally focused on completion my part of the work and too tired to get excited and celebrate sunset of the legacy system and full launch of the new one.
Back to work now

We already wrote about our newly opened School of Selfies Photography. To the best of our knowledge, it is the the first school of this kind in the U.S.A. Perhaps, in the whole world.
In the official showcase of the photos of the Class 2016 graduates, we featured works by birds. Now, it's a show of our in-house graduates – Beatrice, Daphne and Bernie. Enjoy!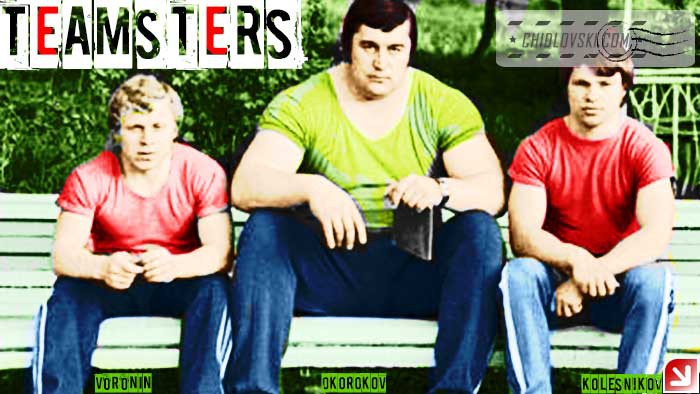 All three characters on the photo were team members of the Soviet national team in the late 1970s.
Left to right – Alexander Voronin, Victor Okorokov and Nikolay Kolesnikov.
Right before the 1980 Summer Olympics in Moscow.
Flyweight Voronin (52KG) and Featherweight Kolesnikov (60KG) are Olympic champions of Montreal 1976.
Super heavyweight Okorokov (110KG+) was a medalist of national championships and won USSR Cup in 1978.
The photo became a hit of funny pics in the Internet because of entertaining contrast in the size of the guys.
It does look comical. And it's also a good promo for the sport of Olympic weightlifting.
Size doesn't matter. Everybody can be a champion. Wheter you are a 100-pound flyweight or a 300-pound, you can win the titles and earn medals and merits.
Long live Olympic weightlifting!