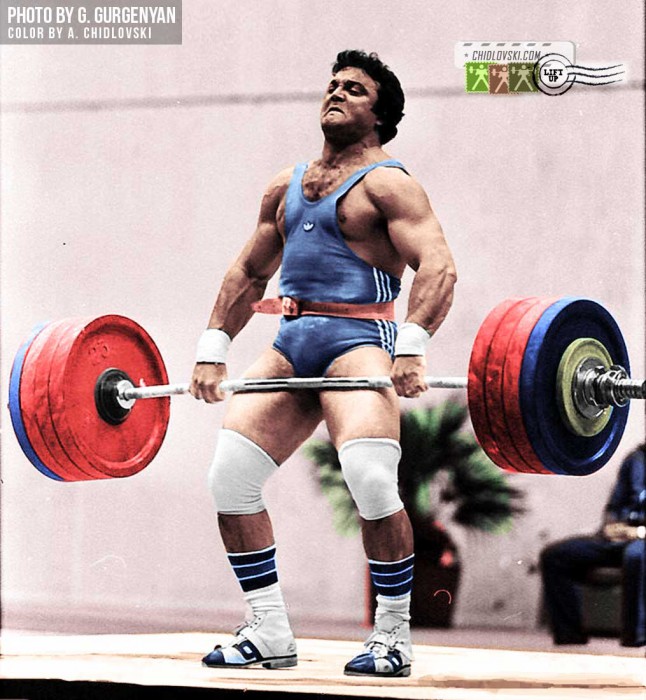 History in Color: One of all-time best Olympic weightlifters, Blagoy Blagoev competes for Bulgaria at the 1983 World Championship in Moscow.
In 1983, Blagoev won the World title in the 90kg weight class with 190+227.5 = 417.5kg.
Another collectible issue of History in Color.
This time it features our selected photos of Team CCCP Weightlifting in various seasons of the past.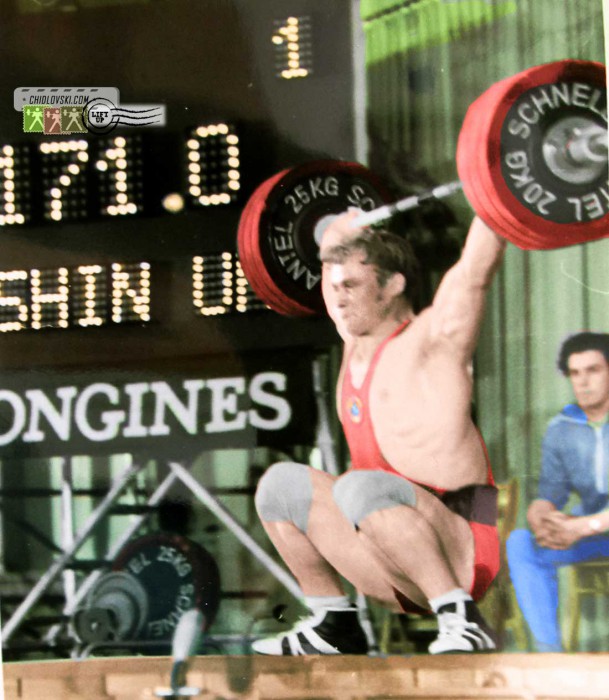 History in Color:

March 5, 1972 – Soviet heavyweight star Pavel Pervushin of Leningrad snatches 171kg and sets the new world record in Ulm, Germany.
Original b/w photo courtesy of Rolf Eberhard (Germany)
History in Color:
Team CCCP weightlifting in the training camp in Feodosia in 1978.
Top row (l to r):

G. Baldin, R. Naniev, A. Saydullaev, V. Kuznichenko, Yu. Vardanyan, D. Rigert, V. Shary, I. Militosyan, Y. Raskin, Y.Krinitsky, I. Kudyukov, n/a, A. Velichkin;

Mid row (l to r):

V. Mazin (?), S. Rakhmanov, S. Arakelov, V. Kaplunov, I. Nikitin, Y. Zaytsev, V. Alexeev, team physician, V. Avzhyan, A.Brovko

Front row (l to r):

N. Kolesnikov, n/a, S. Pevzner, n/a, S. Itkin, K. Osmanaliev, G. Bessonov, A. Voronin, S. Poltoratsky, O. Karayanidi