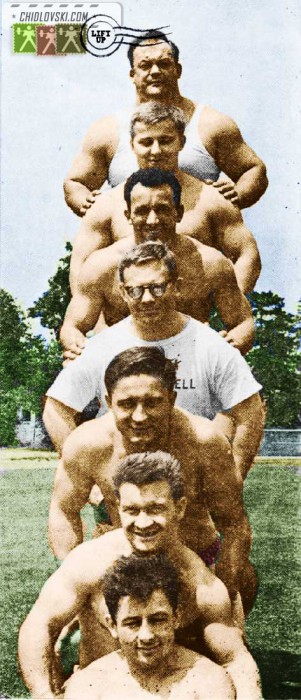 The Lift Up: History in Color showcases the photo of Team Hungary Weightlifting of the 1960s. That was one of the best teams in the history of the 20th century and, no doubts, the strongest Team Hungary ever.
They were called "Magnificent Seven" (bottom to top):


Robert Nagy [56kg, Europe (4)],


Imre Foldi [56kg, Olympics (3); World (9); Europe (11)],


Mihaly Huszka [67.5-75kg, World (2), Europe (2)],


Gyozo Veres [75-82.5kg, Olympics (2), World (5), Europe (6)] ,


Geza Toth [82.75-90kg, Olympics (1), World (8), Europe (6)] ,


Arpad Nemessanyi [90kg; Europe (1)] ,


Ecser Karoly [90+kg, World (1); Europe (4)]


Note: The info listed after the name of athletes include the weightclass they competed in and the medals won at the Olympics, World and European championships.
Dave Sheppard of Team USA is one my favorite Olympic weightlifters of that era.
People like Sheppard are usually being called "classy guys" with a loud "Wow" with it.
Unfortunately, I didn't get a chance to talk to him. He died in 2000. But I heard a lot of stories from those who knew Sheppard.
David Sheppard was born in 1931 in NYC. He began to train in Olympic weightlifting at 11 which is very early. Especially, for the 1940s. Prior to this, he was active in gymnastics. As a teenager, he won a few local competitions in the 60kg weight class and at 17 he won the second place at the junior national championship.
Sheppard was a pioneer of the squat style in Olympic weightlifting. In the years when split style was dominant, he has a brilliant squat style technician. Needless to say, Dave was a fascinating athlete and, in training sessions , he was able to lift split style almost as much as he lifted squat style.
In his career on the international arena, Sheppard won the Pan American Games in 1955 and was a 4-time vice champion of the world in 1951, 1953, 1954 and 1958. He was a world record holder too.
On the cover photo from the History in Color series, Dave Sheppard competes at the 1954 World Championship in Vienna.
Due to the team interests, Sheppard was moved from the light heavyweight class to the middle heavyweight class and with a 84kg body weight represented USA in the 90 kg class. After the first two lifts, he was second to Arkady Vorobyev. So, in the clean-and-jerk, he secured the silver medal with the 167.5 lift and then added… 20kg (!!!) to reach for the gold medal.
Considering that Sheppard's bodyweight was only 84kg and that his teammate Tommy Kono just set the 172.5kg world record in the 82.5kg, it was an enormous weight to capture. 187.5 kg was even well above the world record in the 90kg class set by Norb Schemansky (181kg).
What happened then became a part of the historical epics of the sport. In the first attempt, when no one expected from Sheppard to succeed, he slowly pulled the weight from the platform and then cleaned it but… failed to stand up. In the second try at 187.5kg, Dave cleaned the weight and after a big struggle got up with it but failed to jerk it off the chest. The crowd gave the athlete a loud round of applause. They saw one of the most beautiful and moving moments of Olympic weightlifting – the moment when the athlete pushes the limits of what he can possibly lift.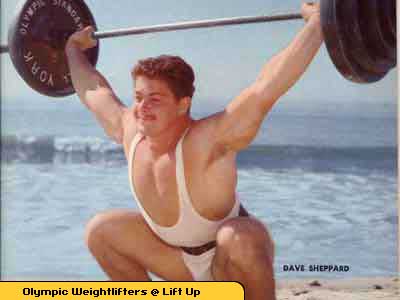 Those who saw Dave Sheppard in the competitions or saw him in archival footage remember his trademark – his captivating smile on the platform. He really payed a special attention to this. Sheppard considered theatrics of weightlifting as important as its athletic aspects.
Dave Sheppard was a magnificent technician. Even today his lifting techniques looks impressive. With all these said, Dave always shared his knowledge and techniques. He actually helped many of his teammates to master the techniques. The list of these athletes include such lifters as Isaak Berger, Dave Ashman and more.
It's a known fact that all his life, when he was an active lifter and after his retirement, Dave Sheppard was helping everybody in the gym. It didn't matter whether it was someone struggling with the 50kg or 250kg lifts.
David Sheppard was a true legend of Olympic weightlifting. Memories of him come from the vintage covers of the Strength and Health magasines, from the results and footage of competitions and from unforgettable stories of those who knew him.
Save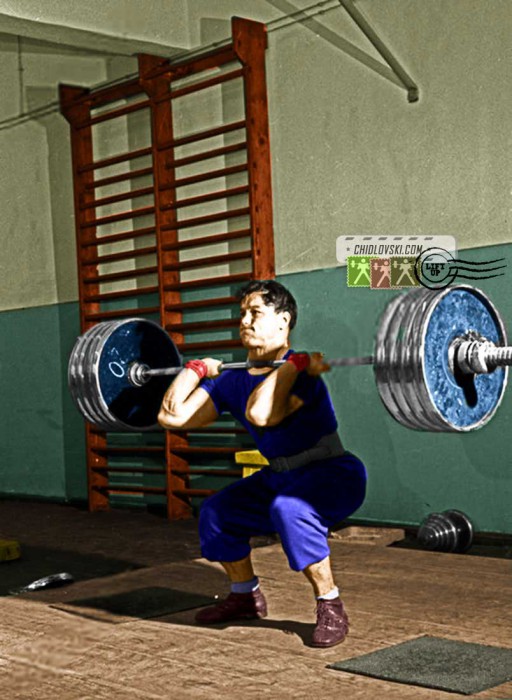 One of the strongest middleweight lifters of the 1960s, Alexander Kurynov performs clean-and-jerk lift in training.
Kurynov won the Olympic gold medal when he managed to win over the legendary Tommy Kono of Team USA at the 1960 Olympics in Rome.
Alexander Kurynov (1934-1973) of Kazan, Tatarstan was one of the most solid and reliable Soviet lifters of the time.
He won gold medals at the Olympics (1960), 3 World Championships (1961-1963), 4 European Championships (1960-1963), USSR Championship (1960) and set 13 world records.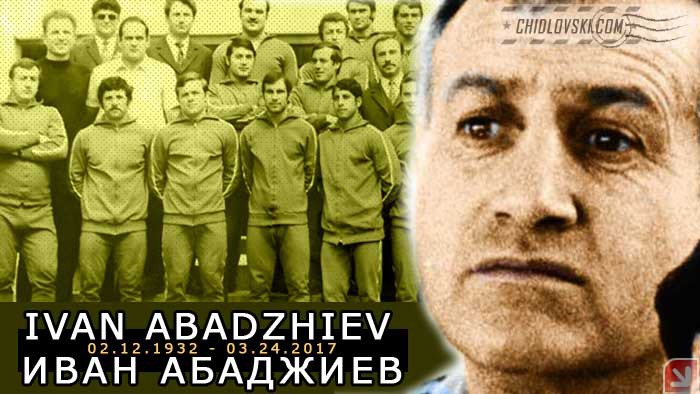 Legendary Olympic weightlifting coach and athlete Ivan Abadzhiev of Bulgaria has passed way.
He died after a complication of open heart surgery. He was 85.
Ivan Abadzhiev needs no special introduction in the world of weightlifting. As a competitive athlete, he was one of the best Bulgarian lifters of the time. As a coach, he was a truly revolutionary figure. He authored a new training methodology and approach that brought outstanding results on the competition platform. During his two decades of work with the national Team Bulgaria and with Team Turkey (in the late 1990s), Ivan Abadzhiev prepared 12 Olympic champions, 13 silver Olympic medalists, 4 bronze Olympic medalists, 57 world champions, 64 European champions.
On this sad day, our deepest condolences go to the family and friends of Ivan Abadzhiev.
RIP, great athlete and coach of champions.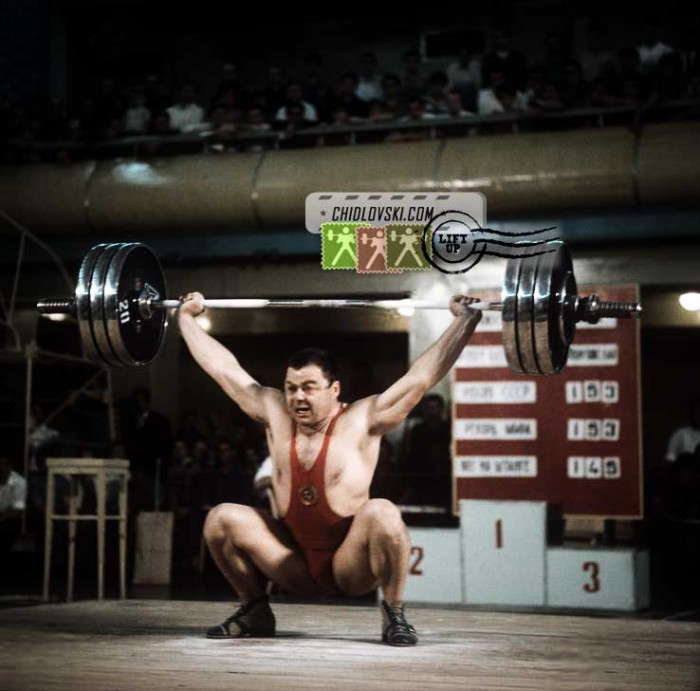 The Lift Up: History in Color series features Alexander Kidyaev of Avangard Lugansk performing the snatch lift at the 1962 USSR championship in Lugansk. By the end of the day, he finished second after Jaan Talts in the 90kg weight class.
Alexander Kidyaev (b. 1942) was a vice World champion (1965), European Champion (1965), USSR champion (1965, 1969), USSR Cup winner (1970, 1972) and national champion in the press (1970), snatch (1972) and clean-and-jerk (1970, 1972) lifts. He competed in the light heavyweight and middle heavyweight classes.
On October 17, 1968, Kidyaev set the world record in the press lift (176 kg).
Save
Save
Save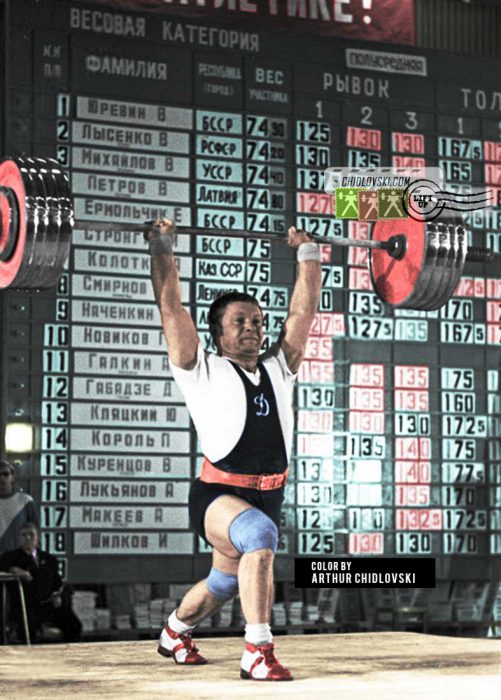 Petr Korol (1941-2015) of Lvov, Ukraine performs clean and jerk lift at the 1973 USSR National Championship in Donetsk.
He won the silver medal with 317.5kg total (135+182.5) in the 75kg weight category.
Three years later, Korol won the 1976 Olympics in the light weight class (67.5kg) with 305kg (135+170).
1973 Championship of the USSR
Location: Donetsk Ukraine
Weight Class: Middleweight  [75 kg]</p>
Rank
Athlete
Results (kg)
1
Valentin  MIKHAILOV, Avangard  Voroshilovgrad
327.5 = 142.5+185
2
Petr  KOROL, Dynamo  Lvov
317.5 = 135+182.5
3
Valery  SMIRNOV, Army  Leningrad
310 = 135+175
4
Alexander  LUKYANOV,
305 = 130+175
5
Yury  KLYATSKY,
305 = 130+175
6
Alexander  MIKHEEV,
302.5 = 130+172.5
7
Evgeny  YERMOLCHIK,
300 = 135+165
8
Viktor  LYSENKO,
300 = 135+165
9
Ivan  SHILKIN,
300 = 130+170
10
Victor  NACHENKIN,
295 = 127.5+167.5
11
Valery  PETROV,
295 = 127.5+167.5
12
Vaclav  YUREVICH,
292.5 = 125+167.5
13
David  GABADZE,
290 = 130+160
14
Alexander  GALKIN,
15
Viktor  KURENSTOV,
16
Alexander  KOLODKOV,
17
Joseph  STRONGIN,
18
George  NOVIKOV,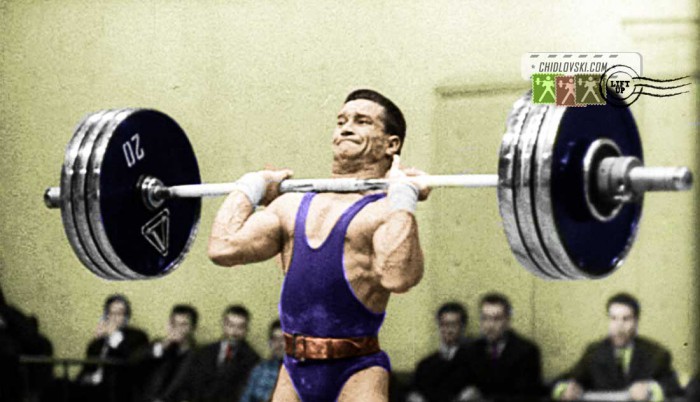 One of the best Olympic weightlifters of all times, Imre Foldi was the first Hungarian to win the Olympics in this sport.
Despite of a physical disability, Imre Foldi competed at five Summer Olympics – in 1960, 1964, 1968, 1972 and 1976. He brought home medal from three of them. He won gold medal in Munoch and silver medals in Tokyo and Montreal.
Imre is a 13-times champion of Hungary. At 13 World championships that Foldi competed in. he won 16 gold, 16 silver and 7 bronze medals.
Foldi set 21 world records – 15 in the press and 6 in the total.
The Lift Up: History in Color series continues…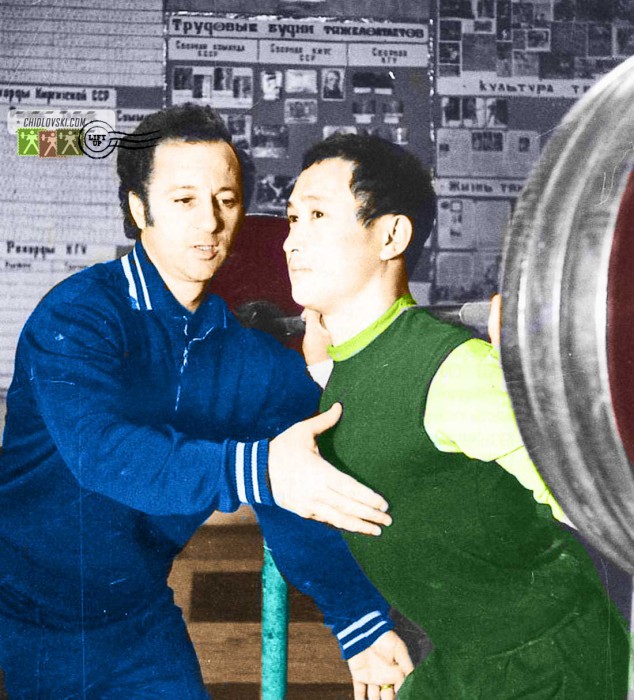 Semyon Itkin and Kanybek Osmanaliev of Kyrgyzstan were one of the most inspiring coach-and-athlete teams of the 1970s and early 1980s.
Kanybek Osnanaliev was a super reliable and clutch type of Olympic weightlifter with exemplary work ethics in the training gym.
Semyon Itkin brought him up from a rookie level on the student weightlifting team of the University in Bishkek (Frunze) to the gold medal in the flyweight class at the 1980 Olympics in Moscow.
Save